In an increasingly competitive and diverse marketplace, seafood processors are seeking solutions to help ensure food safety and quality while maximizing efficiencies across the board. It's no small task to meet multiple and often challenging priorities to meet various demands from consumers, purveyors and regulators. An Eagle engineering expert breaks down some of the biggest trends and challenges.
The good news: Seafood consumption is up! More consumers have taken the time during the pandemic era to buy and try new varieties of seafood at home. As the foodservice industry continues to rebound, it's a rising tide for many seafood providers.
The challenge: Greater consumer interest leads to more competition and there has been an addition of more products with a wider range of diversity. The challenge in keeping pace with demand means taking the right steps to ensure food safety, quality and consistency across the board–all while maintaining operational efficiencies in terms of throughput, labor and budget.
Advanced x-ray systems for seafood inspection are built to withstand the rigors of processing and packaging environments and deliver on these simultaneous priorities. Guido Mahnke, R&D Engineer for Eagle Product Inspection, explains how robust machinery and next-generation technologies come together to help seafood companies catch more with less.
Question:  How has the growing and changing seafood market affected processors in their efforts to ensure product quality and safety through inspection?
Guido Mahnke: With people frequently cooking at home and becoming more concerned about their health during the pandemic, they have been seeking out different kinds of seafood products. Many seafood processors have had to change product shapes, sizes and packaging materials, in some cases investing in new packaging systems. Fortunately, x-ray systems for seafood inspection can analyze different products in different packaging materials easily. In the event a processor has to adapt products and make changes in a short time span, Eagle can offer a versatile x-ray solution.
Our advanced image analysis software, Eagle's SimulTask™ PRO, is installed on every x-ray machine and is programmed to not only identify contaminants, but also products that do not meet certain specifications for quality, such as size, shape or component count.
Question:  What are some particular challenges when it comes to seafood inspection for products, in terms of contaminant detection?
Guido Mahnke: Bones are a consistent challenge. Fish bones are long but very narrow. You must have sufficient resolution to detect such tiny objects. Another challenge is the low x-ray absorptiometry of fish bones by nature, the contrast between bone and fish flesh is very low. Discerning between bone and fish requires a highly sensitive detector, like the new PXT™ detector. Exclusive to Eagle, this technology captures more detailed information about a product being inspected than has been previously possible.
In addition to small bones in fish, you can use x-ray systems to find shell fragments and fish hooks, which impact both food safety and quality. Other contaminants can be introduced during processing, such as wire, machinery shavings and even small pieces of glass that could accidently get into a product if a lamp breaks on the line. Those are just a few examples of potential hazards.
Question:  What is the current capability of Eagle's new PXT™ detector in finding contaminants in seafood?
Guido Mahnke: Contrast varies by product thickness, but radically enhanced PXT™ finds hard-to-detect contaminants including low-contrast bones. PXT™ has been shown to detect fine bones of 0.6 mm or less in salmon filets and down to 0.5 mm or less in frozen codfish at traditional line speeds.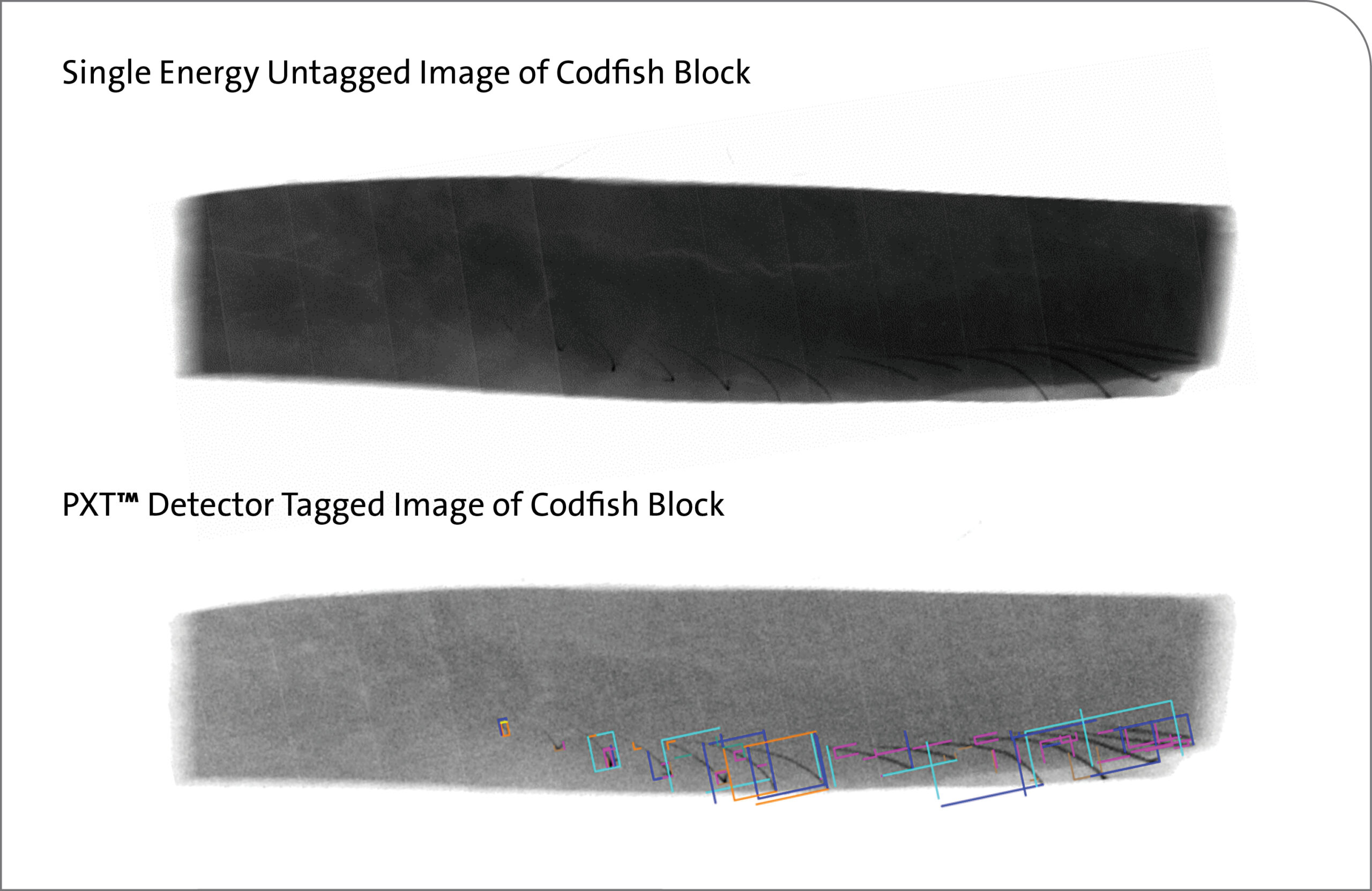 Question:  How do Eagle experts match x-ray systems and software to the "right" application?
Guido Mahnke: As a pioneer in inspection for the last 20 years, we have been developing technologies and software to detect with greater sensitivity and versatility. Eagle offers a wide range of inspection solutions for processors of all sizes, whether a seafood processor is running a high-volume line or producing a smaller quantity of products. The solution must fit the need and it depends on a variety of factors such as line speed, packaging and product­–but ultimately we must address the processor's pain point. Perhaps it is a specific contaminant but it could also be overall quality checks, as mentioned earlier. And, because our software can be easily configured to meet a wide range of specifications, pairing a solution to an application becomes less cumbersome.
Versatility is a hallmark of Eagle's inspection systems, which can be deployed at key points in a seafood facility, from the inspection of raw incoming material to inline processing to packaging at the end of the line. For instance, a tuna company can check raw fish upon receipt for contaminants like hooks or wires and then use x-ray during processing to find and remove bones before products are shipped. Then a final inspection of tuna packages, whether in the form of a pouch or a metal can, ensures safety and protects the company against a potential recall.
Meanwhile, another seafood company that is producing cooked clam meat can add the Pipeline solution with PXT™ to find foreign materials like shells as the product goes through the pumping process. These are just two examples of the many possible applications of x-ray in seafood settings.
Eagle helps processors choose solutions based on their high-quality standards. That way, products are removed from the line before they pose any quality issues or do not meet customer expectations–delivering on brand reputation and overall food safety.
Eagle Product Inspection will spotlight its systems designed for the unique needs of seafood processors, including machines equipped with new PXT™ detection technology, at the upcoming Seafood Expo North America, March 13-15 at the Boston Convention and Exhibition Center, booth #581.