Advanced X-ray Technology for
Superior Contaminant Detection
Broadest Industry and Product Application Experience
At Eagle Product Inspection, we are committed to the continuous development of intelligent x-ray analysis solutions that provide superior results. In addition to our best-in-class physical machine design, we provide advanced inspection technologies and detector configurations, so you get the best inspection solution for your specific application.
Explore our x-ray technology that provides superior food contamination detection, advanced product inspection capabilities as well as improved traceability and reporting to help you meet increasingly-stringent safety standards, quality control in the food industry and HACCP regulations.
Eagle's Advanced X-ray Technologies & Software
SimulTask™ PRO
TraceServer™
Enhanced Dual Energy
Dual Energy
Fat Analysis
Trusted by the best manufacturers
Sign up Eagle PI newsletter
Sign up for our newsletter to receive relevant industry information to enhance your quality assurance program.
"*" indicates required fields
Industry Resources
Infographics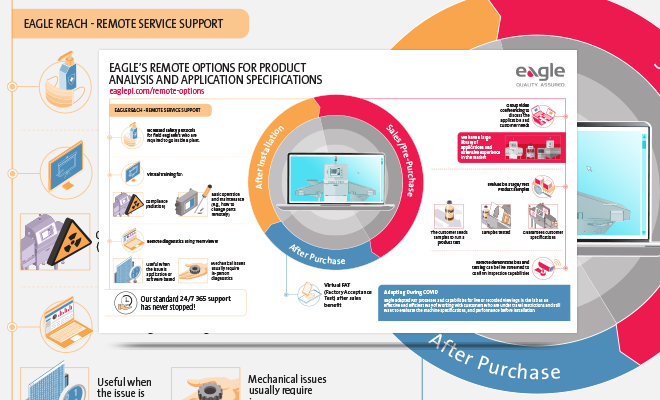 Food & Beverage
3 Types of Remote Support Options for X-ray Inspection
What are the three types of remote support options for x-ray installation and equipment use to ensure manufacturers stay compliant with food safety standards?